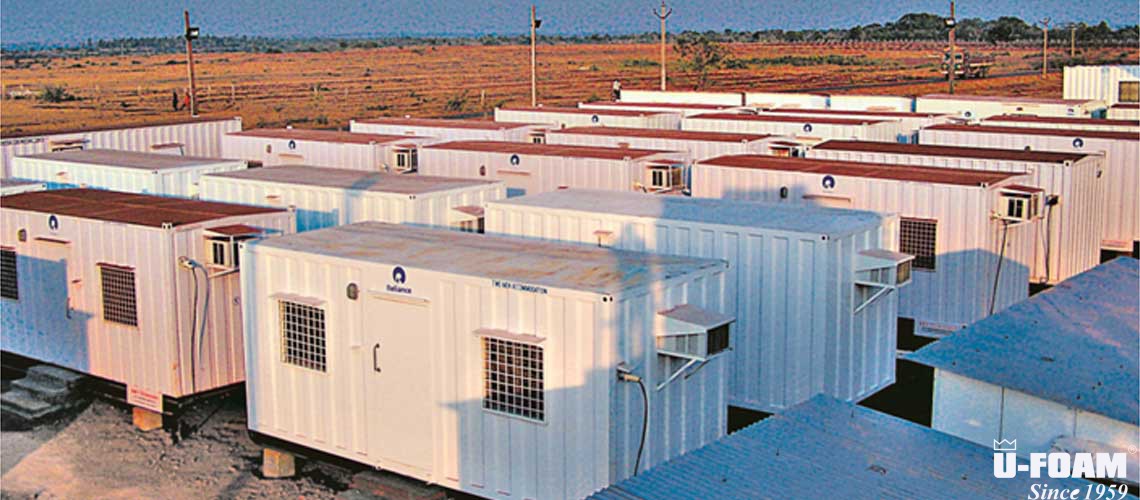 PREFABS (PORTA CABINS)
U-Foam provides you with a world class customized containerized porta-cabin for a wide array of industrial and commercial applications. These Units are versatile and suitable for rapid deployment as well as easy for relocation to other places.The units are pre-equipped with all requisite accessories like office furniture , storage shelves , illumination ,air-conditioning , fire-fighting systems , security control systems etc for immediate usage.
Our expertise over the past years in manufacture of portacabins has enabled us to provide appropriate and suitable solutions to our esteemed clientele. Our Office Solutions are available either in singly or linked to create large complexes or stacked to create a multi-storied complex. Such complexes can house Lavatory, Laundry, Exercise, Meeting, Office, Kitchen and Dining areas, as well as have a self contained Waste Management System.
Mounted Modules that are joined together as a self-contained facility can be completed with stairs and railing. Modules can be mounted on solid or temporary steel or concrete footings. They can also be joined together or set as stand-alone units.
Portacabins can be customised as E-houses, Operator cabins etc for various industrial applications.
Technical Specifications of Portacabins
Main Shell - Structural framework shall be welded to the bottom frame. Corner vertical support lifting hooks ISO type.
Bottom base frame is fabricated with press-braked hat section or rolled steel channels.
Cross members shall be ISMB and ISMC.
Inside flooring shall be made with 5mm chequered plate. The same shall be fixed to the bottom base frame.
False flooring shall be made with MS square tubes 50 x 50 x 2.9 mm thick .
Outer Cladding - Exterior cladding shall be of 1.6/1.2 mm M.S sheet Duly corrugated.It shall be MIG welded to External Superstructure.
Inner Cladding - PPGI or MDF board .Vertical corners shall be finished with Anodised aluminium angles or PVC beading.
Insulation - Rockwool or PUF insulation shall be provided.
Roof - Primary roof shall be duly secured to the frame.
Doors - Flush door shall be provided with steel form sections.
Painting - Base frame painted with zinc rich epoxy primer , epoxy polyamide prime , bituminious paint Outer - painted with zinc rich epoxy primer , epoxy polyamide prime , CR enamel.
Electricals - Wiring shall be concealed type. Decorative flourescent fitting for lighting , weather proof junction box with required industrial sockets shall be provided.
Customization as per customer requirement shall be made.
Applications
Site Offices | Site Accomodation | Electrical houses and cabins | Stores | Fully Equipped Kitchens | Mess / Dormitory | Medical facility / Laboratory | Toilets and bathrooms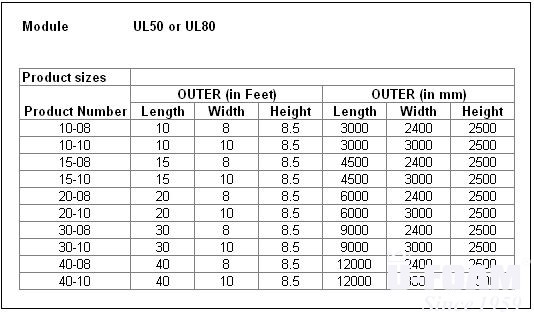 FLOOR
Floor frame: 2 galvanised sheets of steel stingers, 200 mm section connected by IPE profile. Soldered by electric welding. Maximum Floor loading 300 Kg/Sm
Insulation: Glass wool / expanded polystyrene / polyurethane foam options. Floor made of wood cement ( thickness 22 mm), class 1, assembled by feather joint.
Floor covering: PVC lining U2P2 class 2.
Thermal transmission coefficient of floor : K= 0.25 W / m2 °C
ROOF FRAME
Roof: 2 main sectional beams of galvanised steel refasten with tubular cross bars. Water tightness: sheet metal exterior galvanised. Roof resistance: 1,5Kn/m2 + 1 person with 80 Kg (more on demand) Insulation: Glass wool / expanded polystyrene / polyurethane foam sandwich panel, class 1. Thermal transmission coefficient of roof : K = 0.25 W / m2 °C.
SUPER STRUCTURE
Steel square tubes 100 x 100 mm (galvanised interior and exterior) also used as water outlet tube. Combination with floor and roof by electric welding.
WALLS
Sandwich panels (thickness 50 or 80mm) male-female fitting. Outside corrugate iron pre-lacquered (thickness 5/10 mm) Inside smooth sheet iron pre-lacquered (thickness 5/10 mm) Insulation: 50 or 80 mm of polyurethane foam - class 1 (option in rockwool class 0) Thermal transmission coefficient of walls : K = 0.35 W / m2 °C.
ELECTRICAL INSTALLATION
According to the Indian standard; the installation is wired in and is equipped with an electrical board ( one for each module ) with : 1 differential 25 A circuit braker, 30mA 1 16 A fuse rack for the plug circuit, 1 16 A fuse rack for each convector 1 10 A fuse rack for the lighting circuit
ELECTRICAL FITTING
Standard equipment by module, without option or specific requests: 2 lighting 1 x 36 W cover, 1 switch, 1 supply convector, 2 socket 16 A +T, 1 connection box
PROTECTION
Structure: 2-pack paint system ie. Primer & top coat (Standard colour: RAL 9002)
VARIED FITTING
Air conditioning, phone connection... all possible requests, according to customer and options.
Trans-Pack System
U-Foam Trans-Pack modules are shipped in a knocked down position. The containerized modules are used for accommodation, office, dinning facilities and general purpose style of buildings.
Modules are shipped in sizes of 8ft. wide x 20ft. and 30ft. lengths as well as modules of 10ft.wide x 20ft. and 30ft. lengths. Modules are Trans-Packed from 3 to 4 height as a secured shipping package.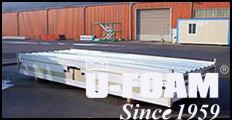 U-Foam Trans-Packed modules are Flat-Packed for shipping lines, railroad and trucking transportation companies. This style of transportation in the Trans-Packed/Flat Packed design reduces the cost of transportation to the job site when shipped in large volume.
Upon arrival on the site a crane, forklift or boom truck can be used to offload and set up with a few hand tools. The installation can then be carried out with a minimum of two people. These units can be easily assembled and dismantled several times, because of the bolt type of U-Foam Fastening System used. All doors and shuttered windows are built-in and are part of the U-Foam Trans-Packed package.
Deployments with customer specific interiors
20' and 40' Complete Camp
20' One Man Accommodation
20' Four Man and Two Man Accommodation
20' Office and Conference room
Kitchen Unit